Pictures below: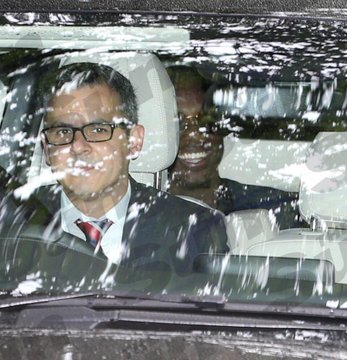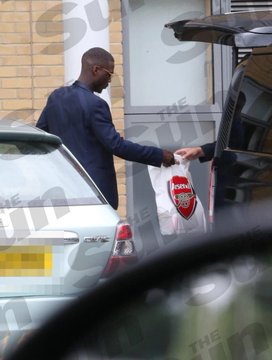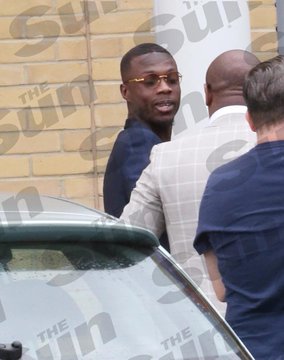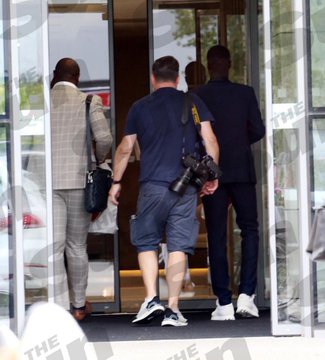 Meanwhile, Pierre-Emerick Aubameyang and Alexandre Lacazette appear to have confirmed the Ivory Coast international transfer to Arsenal by taking to social media networking Instagram trolling fans with Pepe jubilation style pics.
Here:
According to reports, Arsenal have given Barcelona all clear to sign Mesut Ozil from Arsenal for €20 million (£17 million) in January.
If Arsenal decide to keep Ozil beyond the winter window, it means teams will be able to negotiate a deal with him from January with a view to a free transfer in the summer.
The Germany international took the man of the match award for his performance in the North London derby.
Arsenal could be set to cash in on the playmaker, who is out of contract with the Gunners next summer and could leave for free.
Arsenal and Ozil are in lockhorns regarding a new contract and it doesn't appear he will Ozil will extend his stay at the Emirates.
Manchester United have been heavily linked with the former Real Madrid star, but the Daily Mail claim the La Liga giants are preparing a move for Ozil.
Barca failed in their pursuit of signing Liverpool's Phillipe Coutinho this summer and are looking at the Gunners playmaker as a suitable alternative.
Arsenal will return to action on Thursday night when they take on FC Cologne in the UEFA Europa League fixtures before travelling to Turf Moor on Sunday to take on FC Burnley in the Gameweek 13 of the Premier League fixtures.
Get the Up-to-date latest epl fixtures dates and kick-off times from FootballWeeks.com
ArsenalTalk it's here again bringing you news, opinion and humour on a daily basis.
Despite the frustrating draw, we saw our side through to next round of the Europa League after a goalless draw at home with Red Star Belgrade.
A half-full Emirates Stadium oversaw a disappointing game which could have been won by either side.
Jack Wilshere, who impressed once again, was for unable to help Arsenal score a goal. There had been calls for Wilshere to be recalled to Gareth Southgate's squad, but the England international omission means he still has plenty of work to do.
We were all on the edge of our seats when it appeared the midfielder had suffered another injury. Wilshere who has a long history of bad luck went down after colliding with a Belgrade forward. He punched the ground in frustration and the whole of Emirates held its breath.
Fans were covering their eyes, but thankfully the 25-year-old picked himself up and ran it off. Let's take a look at how fans reacted to the incident on Twitter….
Every time Jack Wilshere goes down injured I shit myself incase he is out for another 15 months

— Dylan O'Riordan (@ORiordanDylan98) November 2, 2017
Horrible tackle on Wilshere. He's not at fault there whatsoever.

— JordJW (@jord_jjw) November 2, 2017
Is that Wilshere injured?

— Sam Wheeler (@wheelerdeeler) November 2, 2017
Wow… another HUGE tackle on Wilshere. These have got to stop

— Danny (@DannyGannon) November 2, 2017
Wilshere's gonna leave this pitch injured if he keeps playing LF

— The Return (@WilshTheBaller) November 2, 2017
I hope Wilshere never gets injured again. Ever.

— Fadi (@Sholbato) November 2, 2017
Arsenal will be back in action when they travel to Manchester and face Pep Guardiola's Manchester City side in the Premier League game week 11. Get the latest free bets tips on Arsenal winning at the Etihad on Sunday and compare free bet offers.
Arsenal defender Per Mertesacker says that it is his responsibility to make the club's players want it more.
Speaking before our take on Everton this weekend, the German reflected on the disastrous defeat against Watford, when we were 1-0 up but lost 2-1 late on after an awful second-half performance.
The club captain had a different opinion to Arsene Wenger and Jack Wilshere, when he claimed that his team-mates need to start being better prepared mentally for games.
"Even if you're exhausted, even if it's a game where you think you have to make every single step possible to avoid chances, you do it," Mertesacker told Arsenal Player.
"They [Watford] were coming for us and were having a real go at us.
"Then you need numbers, you need players in the box and players wanting to defend that goal. We lacked that, totally, especially on that second goal.
"I need to do a better job in preparing our players, especially mentally to go that extra step.
"That needs to be done beforehand. Afterwards is easy because anyone can judge us on that performance and can criticise.
"That's fair play, but we as players and me as captain need to make sure we are aware of that before the game, not afterwards."
Visit Football Weeks for latest insightful football opinions and analysis by clicking on the link…..
Talks over extending Mesuit Ozil's contract at Arsenal according to the agent of the German midfielder are "going in a positive way".
Ozil could be back in action for Arsenal's trip to Watford on Saturday after recovering from a knee injury which kept the German World Cup winner of international duty as Germany secured their place at the Russia 2018 World Cup.
The 2010 Germany World Cup winner joined the Gunners from Real Madrid in a then club-record £42.5million deal in September 2013, but as yet has not agree a new contract.
There had been rumours, though, the former Los Blancos playmaker could be sold in January to avoid him leaving on a free transfer in the summer.
Per reports, Inter Milan, Besiktas and Manchester United, now managed by his former Real Madrid manager Jose Mourinho, have all been reported as possible destination for player said to be seeking a salary in the region of £300,000-per-week.
The German's agent Dr Erkut Sogut, however, suggested in quotes to Turkish media outlet Fanatik that the German could well be staying put.
Sogut said: "Ozil wants to play another two to three years in the Premier League.
"Our contacts with Arsenal continue and are going in a positive way."
Arsenal will be back in Premier League action this weekend when they take on Watford at Vicarage Road on the back of an unbeaten run through seven matches across all competitions, with four successive victories.
However, we would be without the service of German defender Shkodran Mustafi, who suffered a suspected thigh muscle tear while on international duty.
Forward Alexis Sanchez, meanwhile, faced a long trek back to London following Chile's final World Cup qualifier against Brazil, which saw them lose 3-0 in Sao Paulo and so miss out on a place in Russia next summer.
Arsenal shareholder Alisher Usmanov has publicly declared that he is not in talks to sell his 30.4% stake in the club to hugely unpopular majority shareholder Stan Kroenke, reassuring supporters that it also remains his intention to buy more Gunners shares and take control.
It was reported this week that Kroenke, who also owns multiple sports franchises in his native United States – including the Los Angeles Rams of the NFL, had offered Usmanov a total of £525m in an attempt to buy him out of the Emirates Stadium altogether.
That would have seen his stake, currently 67%, rise to over 97% and near full private ownership – a situation fans have been desperate to avoid.
Taking to Twitter on Wednesday afternoon, Arsenal legend Ian Wright descirbed Russian billionaire Usmanove as the club's 'only hope'.
Responding to the speculation, Usmanov has issued a statment, reassuring fans that he is not selling his shares to Kroenke and that he would be running things differently were in charge of any decisions – the 64-year-old does not currently have a place on the Arsenal board.
In his statement, he acknowledge the 'anxiety' that news of Kroenke's bid had created and believes that retaining his stake will help 'protect the best interests' of supporters.
"I would like to be clear that I am not holding any talks with Mr Kroenke about a sale," he said. "My interest in Arsenal from the beginning was long term and my intention has always been to buy additional shares should they become available."
Usmanov bought up current Everton majority shareholder and business partner Farhad Moshiri's shares to double his stake to its current 30%, and explained how he has already made his own offer to buy Kroenke out of the club in a deal that values Arsenal at £2bn.
"That offer remains valid today," he said. "I have always been and will continue to be an ardent supporter of Arsenal and I see my 30% stake as an important aspect in protecting the best interests of the fans in the club.
"It has been well documented that I have no say in the running of the club, that my views differ from those of the majority shareholder and that I would take a different approach to delivering footballing success.
"I would like to assure supporters that I am open to various future scenarios – a constructive partnership with the majority shareholder, the purchase of his stake either alone or in a consortium, or if a party appears who shares my and undoubtedly the majority of fans' vision for the club, I could consider the question of selling my stake."